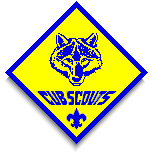 We Are The Webelos Song
(To the tune "We Are The Champions" by Queen)

We've paid our dues -
Once in a while -
We've earned our badges With our own special style -
And wet weekends We've had a few
We've had our share of smoke blown in our face -
But we've come through
We are the Webelos - my friends
And we'll keep on Scouting - till the end -
We are the Webelos - We are the Webelos
No time for Wolf books
'Cause we are the Webelos -
of the Pack -
We've whittled a stick And cooked tin-foil stew -
You taught us about Boy Scouts and the fun that comes with it -
Our thanks to you -
But it's been no bed of roses Can't use canoes -
We consider it a challenge to earn the Arrow of Light -
And we ain't gonna lose -
We are the Webelos - my friends
And we'll keep on Scouting - till the end -
We are the Webelos - We are the Webelos
No time for Bear books
'Cause we are the Webelos -
of the Pack -

We Are The Webelos song is from
Rich Clark


CUB SCOUT PRAYER
( sung to tune of "O Tannenbaum")
Lord, in this evening hour I pray
For strength to do my best each day.
Draw near to me that I may see
The kind of Cub Scout I should be.
In serving others let me see
That I am only serving Thee.
Bless me, oh Lord, in thy great love,
That I may be a better Cub.




AKELA'S COUNCIL
(sung to the tune of: Clementine)
When Alela hold his council, And the campfire's all aglow,
We'll form a friendship circle, As we sing so sweet and low.
O Akela, brave Akela, True & fair Cub Scouts we'll be.
To our Promise and the Pack Law,
We will pledge our loyality.


INDIAN TAPS
(Tune: Taps)
Great spirit come,
With beat of drum.
Journey now, With each one,
Great Spirit please.
Till each one,
Of your tribe,
Reach their tepees